Digital Signage Solutions
Send scheduled playlists with presentations and videos to your remote players in your shops and offices. Control your brand from your or any desktop with our digital signage solutions in the cloud.
Easy scheduling of multi media playlists
Works in the cloud from any desktop, tablet or smartphone
Instant overview and reporting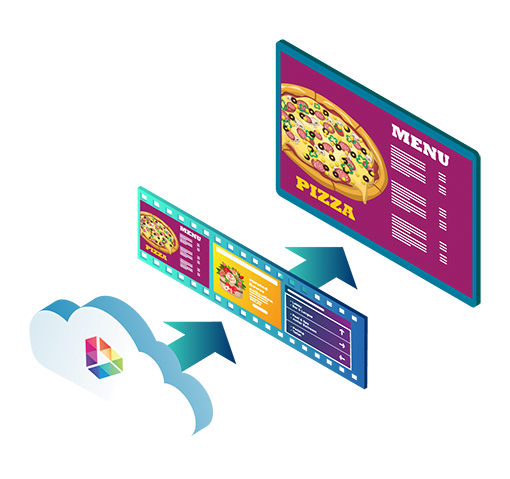 You can upload presentations and videos to your playlist. Our customers often use PowerPoint to design their presentations because they already have it and know that software. PowerPoint is an uncomplicated software that is mostly used for presentations. It is great for designing, and you don't need expert software to create videos as you need for software like Adobe After Effects. What if we told you that you could use PowerPoint to create videos that are compatible across all platforms in less than 10 minutes? Well, that is precisely what we do. Just open the PowerPoint document containing slides and your messages, make your changes, save it and upload at SignageTube.  Our digital signage solutions software converts that PowerPoint into videos with full animations in record time.
Our server converts everything to video and distributes it. The video is ideal because it is universal for all platforms; Windows and Android, and runs safely without crashes, and has no further dependencies. Also, see this project as a personalized Youtube channel where the remote control is in the HQ of a company, or compare it to Netflix. You schedule what needs to be displayed. Not broadcasting, but narrowcasting. So like your personal Netflix for companies.
Features
Why our Digital Signage Solutions
$

7.99
per month
per device
when paid annually
€

7.99
per month
per device
when paid annually
£

7.99
per month
per device
when paid annually
$

9.99
per month
per device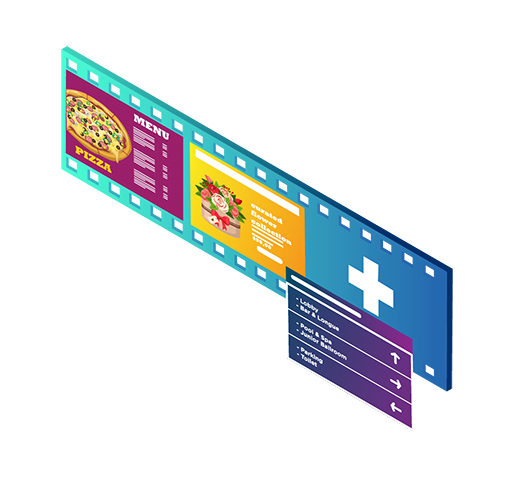 Easy Playlists
A playlist can consist of presentations and videos. Most of our customers are using PowerPoint because it is so easy to use, everyone has it already, and you can find 100,000's of templates, paid and free.
No complex video editing software is needed. No new digital signage editor is needed. You probably already know Microsoft PowerPoint.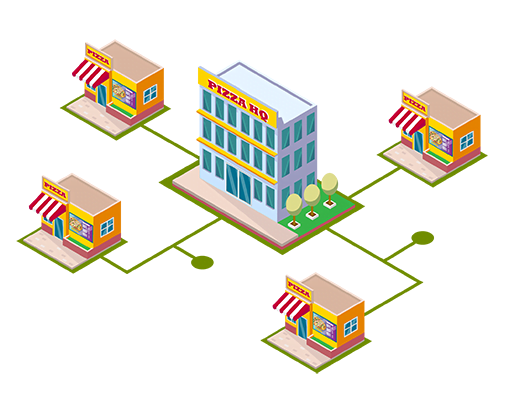 Multiple Sites
Having multiple players at your site? Not a problem. Are you a company with multiple locations, shops or factories. No problem at all with our access rights.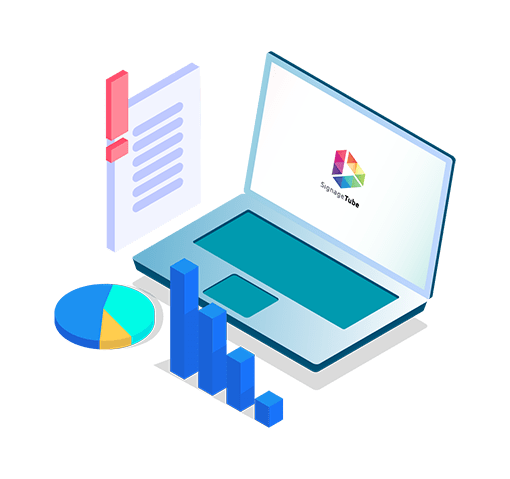 Better Stats & Control
See what is displayed in real-time on your remote screens. Live thumbnails of every player on your desktop or smartphone.
Every playback is logged so you can easily provide a proof of playing to your advertisers.
No Extra Software
Next to our player software, no other software dependencies are needed.

Multiple Platforms
Player works great on Windows and Android platforms.
Servers in Your Area
We have servers in every continent to have faster uploads and downloads.
File Copying & Caching
Media files are cached on your local system for fast and safe local playback.
User Management
You can set up multiple sites or shops and assign users to sites.

Free Templates
Download free presentation templates to get started quickly.

Alerting
Optionally, get email alerts when something goes wrong.
Instant overview
With our web application, you can overview all of your players together.

Advanced Logging
Instant access to events, audit trails and error messages of all players.
Digital Signage Solutions Plans
Free Plan
1 GB Storage

Unlimited Bandwidth

Access to our Templates

For maximum one screen
Premium Plan
25 GB Storage

Unlimited Bandwidth

Access to our Templates

High Quality Output

Banner Free

Multiple Sites with Authentication and Permissions
F.A.Q.
Frequently Asked Questions
Which operating systems are supported?
At the moment we start with the Microsoft Windows platform only since we have the most experience and best results with this OS. Very soon after our release of SignageTube, we will invest in a player version of iOS and Android too.
Our administrator and user web application to create and assign playlists, is working on all operating systems already since that is done in a web application.
How long does it take to render my presentations?
Our players are using videos only for playback. We have chosen for this technology because videos are rich and playable on every device and operating system. A video that you directly upload is available immediately for all players. But you can upload presentations. Our servers will convert these presentations into videos before we can distribute the videos to the players.
How long it takes, that generation? That completely depends on the number of slides, the complexity of the transitions and animations, and most important, how long you show your slides. It is not possible to calculate the exact rendering time but roughly you can count one minute per minute playback. So when your single slideshow run would take 5 minutes, then our rendering process would need 5 minutes on average to generate its video out of it.
Can SignageTube show real-time data?
No. SignageTube is designed (for the moment) to show static information only. You can update the source presentation with new information and upload it again to SignageTube. After that, a presentation or video is static. But your screens will display that new information. That will work. 
If you want to use data-driven presentation and signage, then please have a look at our DataPoint and iPoint software. 
What file types are supported?
You can upload files with extensions PPT, PPTX, PPSX, MP4 and AVI for use in your playlists.
How many displays can you link to a plan?
You need one subscription per display. When you have a shop with 3 displays that you want to manage, then you need 3 subscriptions.
Where are the SignageTube datacenter regions located?
We are currently running 3 data centers; Europe near Amsterdam, East Coast US near New York City, and West Coast US near San Francisco.
Still Not Sure If SignageTube Is Right for You?
Contact our Digital Signage Experts
24/7 Award Winning Support
We are with you every step of your journey. Our online support personnel makes sure that your experience remains a smooth and enjoyable one.
Free Digital Signage
We are confident that we provide you with one of the best digital signage you can find anywhere on the web. With this, we are offering a completely free account of our SignageTube software.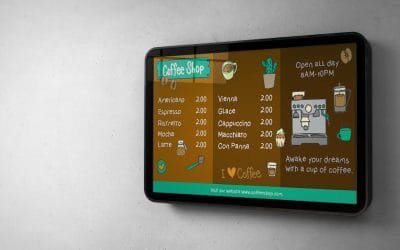 A well-designed price list is essential for any café. It not only provides customers with clear information about the products and their prices but also reflects the overall branding and ambiance of your establishment. PowerPoint offers a user-friendly platform to...
Free Digital Signage
Sign up and get a lifetime free account