Are you tired of manually updating and managing your digital signage content? Do you want a hassle-free solution that enables you to synchronize content across multiple screens seamlessly? Look no further! Introducing the SignageTube Synchronization Tool – a game-changer in the world of digital signage management.
What is SignageTube?
SignageTube is a powerful digital signage platform that allows users to create and publish captivating content on their screens. Whether you have a single screen or an extensive network of displays, SignageTube allows you to manage and control your content effortlessly. With its easy-to-use interface and extensive features, SignageTube takes the complexity out of digital signage management.
The Need for a Synchronization Tool
Managing digital signage across multiple screens can be a daunting task. Traditionally, updating content on each screen individually was time-consuming and prone to errors. Additionally, displaying different content on different screens based on location or time required manual intervention. To address these challenges, the SignageTube team developed the Synchronization Tool.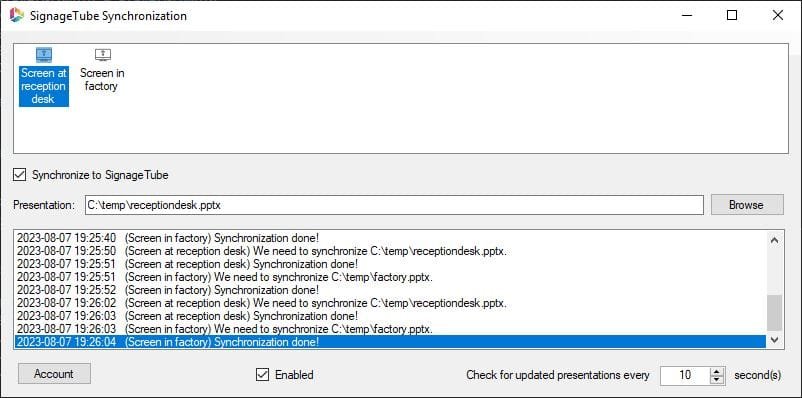 How Does the Synchronization Tool Work?
The SignageTube Synchronization Tool is a small utility that you install on your computer. It will monitor your local presentations and upload them automatically whenever you have changed a presentation. There is no more need to log on to your account via a web browser and to upload an updated presentation by hand every time.
Here's how it works:
Connect to your account: Click the Account button and enter your SignageTube username and password. This action will get in all players from your account. 
Select a player: Select the player from the list.
Enable synchronization: Check the option Synchronize to SignageTube.
Browse for presentation: Click the Browse button and navigate to the location of the presentation that you want to link to. Select the PowerPoint presentation and hit Open.
Watching for update: Now you can open the presentation and make changes to it. Save the presentation when you are finished.
Automatic uploading: The synchronization tool will detect this file modification and send it to the SignageTube server. It will stop the currently playing presentation and schedule this new presentation automatically for immediate playback.
Benefits of the SignageTube Synchronization Tool
By utilizing the SignageTube Synchronization Tool, users can experience numerous benefits:
Time-Saving: No more manual updates and management of each screen individually. The Synchronization Tool simplifies the process and saves valuable time.
Centralized Control: With the local synchronization tool, you have full and direct control over your screens and their content. 
Flexibility: Display different content on different screens based on your local presentations.
Scalability: As your business grows, the Synchronization Tool scales with you. Easily add new screens and manage your content all from one centralized location.
Conclusion
If you're looking for an efficient solution to manage your digital signage screens, the SignageTube Synchronization Tool is the answer. Embrace a seamless digital signage management experience with the power of real-time synchronization. Say goodbye to manual updates and ensure consistent content display across multiple screens. Try the SignageTube Synchronization Tool today and revolutionize your digital signage management!
Update presentations on your computer and have it sent automatically to your digital signage screens
Free SignageTube Account
Sign up for your account below to see how cloud-based digital signage can help your business, organization or facility.