A digital menu board is ideally a one-stop shop for sharing every relevant piece of information a customer needs to know about your business. Hence, it is important to follow a careful and resourceful way to showcase a wide range of attractive content on your digital signage in the cloud menu boards to entice new customers, increase sales, and still compel the existing ones to keep coming back.
Don't forget that the digital signage in the cloud technology is not just another fad. Far more that, digital menu boards are an important tool for modern stores, bars and quick service restaurants (QSR), looking to expand the reach of their business. Digital signage in the cloud offers clarity and easy customization, coupled with a lot of resources and enhancements for showcasing your business to the global community and even on social media.
As a business owner who has heard about the huge advantages the digital signage in the cloud solutions can bring to your business and has decided to shift from a traditional menu to a digital menu board, you may have a lot of questions about the set-up process, especially what you need to get started. In this post, we answer questions relating to setting up a digital menu board for a take-away restaurant.
Important Points to Note when Creating Your Digital Menu Board
Apparently, the first decision you need to make when setting up your digital menu board is the selection of location. While it is important to place your board in a strategic location with high visibility, you also need to keep in mind that the technology can be fragile. This is why it is recommended that you keep your menu board close to power supply and out of easy reach of intruders and trespassers.
Furthermore, the size of your screen also has a big impact on placement. It ideal to use a bigger screen can be seen from a greater distance wherever people may stand or sit to see your exciting new offerings, customized meal plans, seasonal promos and even your social media feeds. However, if you're working with a smaller screen, it is important to place it at a point where customers often converge when they are placing an order.
Another important point to consider in using digital signage in the cloud service is the orientation of your digital menu board and choice of colors. Depending on your products, choice of display screen and space, you may discover that a landscape or portrait orientation better suits your taste and highlights your products well; especially if you already have more than one existing television screen in your space. However, if you opt for multiple digital menu boards, it is best to split your offerings across multiple screens. Likewise, choose bright colors that accentuate your products and make them attractive enough even from a distance.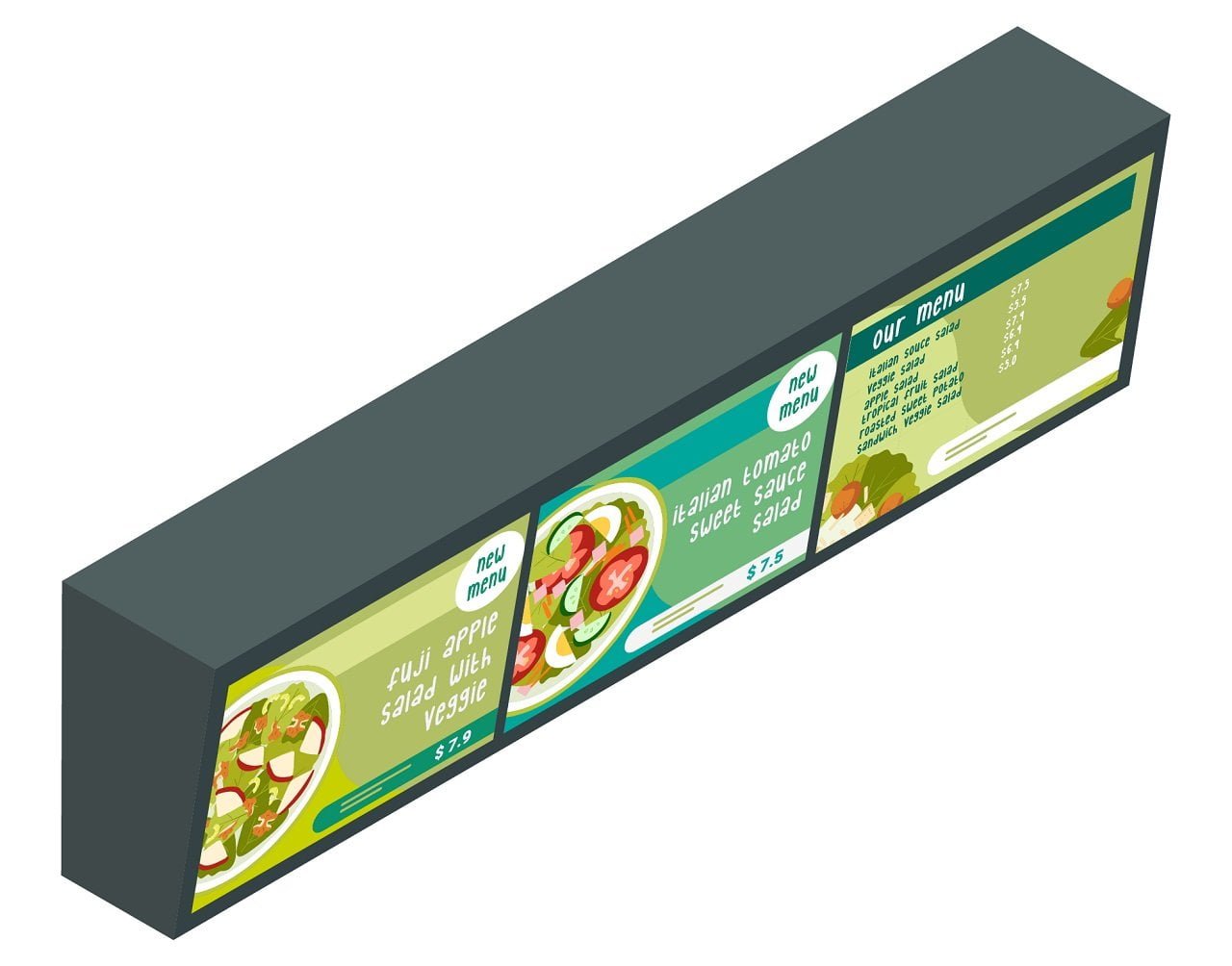 How Can You Use Digital Menu Board in the Cloud Technology for Your QSR and Restaurant?
Products and prices change quickly in QSR and restaurants, so it is vital that your digital menu boards should be able to do the same. When you have menu boards in your restaurant, the displayed content – products, prices and special offers – should be configured to be changed by any member of staff, and not just your design team. On a busy day, boards can be used to display product volume, price slashes, countdown for a limited-time offer and even upcoming offers. Also, you can make custom designs for seasonal offers or real-time content to show product shortages.
Lastly, you can also use your digital menu board connected to the digital signage in the cloud service to switch between a myriad of different content sources, such as your social media dashboards, train times, weather reports, live news, health reports, sports scores and even special recipes!
Free Trial
Sign up for our free trial below to see how cloud-based digital signage can help your business, organization or facility.
Free SignageTube Account
Sign up for your account below to see how cloud-based digital signage can help your business, organization or facility.