Digital signage now allows you to upload your restaurant menu that includes details, such as names, descriptions, and a price list on your digital menu board from anywhere in the world. Customer interests are rapidly changing, constantly desiring new dishes, and digital signage in the cloud helps you to meet this dynamic customer interest. SignageTube provides the necessary tools that will help you connect from wherever you are through digital signage in the cloud to your restaurant.
Various restaurants have multiple offers that changes at intervals during the day, and digital signage in the cloud allows restaurant owners to make such changes with ease from their homes. Your digital menu boards will change automatically, saving you the stress of physically having to rotate light-boxes or swapping menu boards. SignageTube allows you to develop and setup menus for your restaurant and schedule them to change whenever you want. It allows you to run special promotions from anywhere, too.
Setting up a digital menu price display has so many advantages and it is easy to set up with the right tools. There is no need to purchase expensive Adobe Indesign brochures or create contents using Adobe After Effects. SignageTube provides PowerPoint templates that can be easily used immediately after a subscription.
What Is a Digital Display Menu?
While websites are moving from dynamic sites to statically generated sites, restaurants are moving the other way round. With the use of LCD, LED or Plasma displays, menus can now be displayed digitally. Prices can easily be changed using a small computer, plus a TV screen or tablet, and a SignageTube subscription, a digital signage platform that helps you achieve more with ready-made templates.
By being dynamic, it means restaurants owners can display files, such as images, animated effects and videos on their screen(s). These dynamic files would then serve the purpose of displaying restaurant menus, prices and promotions for new offers.
The Advantages Of Using Digital Display Menu In Your Restaurant
Saves Cost
Utilizing digital display menu for your restaurant saves you a lot of money. Certain production costs that would have gone into printing static-paper menu will be averted and profit will increase.
Better Visibility
Digital display due to its aesthetic makeup creates better visibility for your restaurant. It makes it possible for everyone to see the menu description, new promotions and prices easily. The digital display can easily attract the attention of everyone, both in and outside the restaurant.
Sales Boost
Research has shown that digital display boards have boosted sales by 21 to 23%. Customers can now see what they want on your display screen, even when it isn't lunch break yet, and that may influence them to take action.
Saves Time
Digital display board saves you the time of having to physically change static menu boards, or distributing menu books to clients individually. Static display users would have to wait for a professional designer to develop a new design, which the restaurant owner would pay for and still wait for the boards to be reprinted. However, with digital display boards, you can easily download a template from SignageTube, edit it and use without stress from anywhere in the world at no cost, just with PowerPoint. With this, your menu can easily be updated.
You can easily react to new ideas and quickly develop content whenever a competitor rolls out a new promotion, and also develop menus that will last throughout the day and schedule it for any time you want.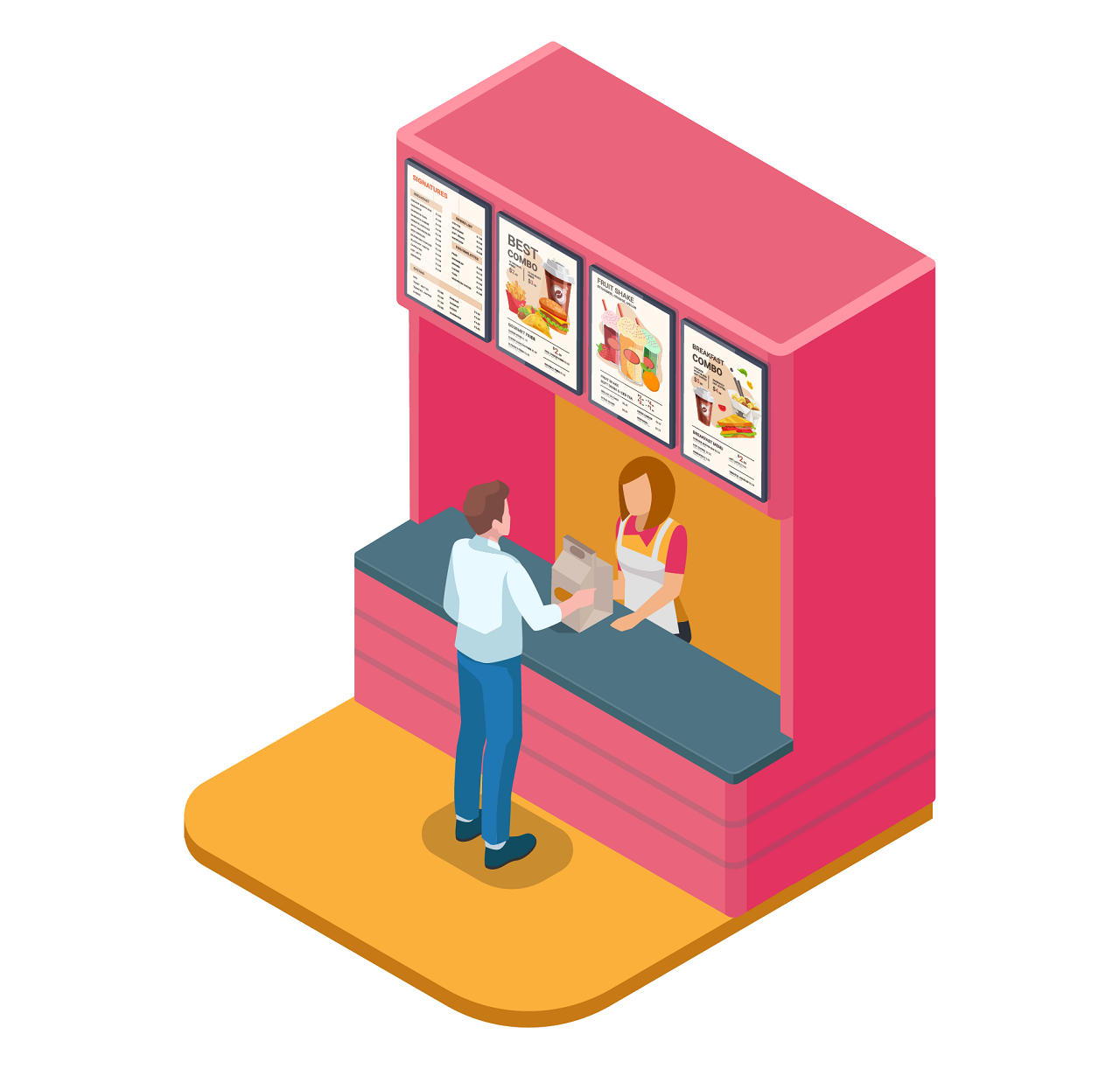 Tools Needed To Set-up A Digital Menu Screen
Setting up a digital menu board for your restaurant is simple! Also, the tools needed are common, which means that you can effortlessly set it up. The tools are:
A TV (LED, LCD, Plasma)
A Computer (can be a small computer, an old computer you have, or any computer)
A SignageTube Subscription
Free SignageTube Account
Sign up for your account below to see how cloud-based digital signage can help your business, organization or facility.