We recently started using Windows Surface tablets for our digital signage. Of course, a large 55″ LED television looks great for digital signage, but sometimes you need a smaller solution. We needed a tablet digital signage solution for our demoing at meetings and at exhibitions and it was light to carry, and you still had the possibility to show how great our digital signage software is working.
But next to a demo, there are other companies looking out for a small, all-in-one solution for their digital signage needs. Think about e.g. tablet hanging at the door of a meeting room to show the clock, the name of the meeting room, it's schedules and current allocation.
Hanging up a 21″ television with a small compact computer there, with all its connection cables and power cords, is a complete disaster to hide it and make it estitical. Why not use a Microsoft Surface tablet for this purpose? Just one power cable and internet or connectivity is done thru a WIFI connection.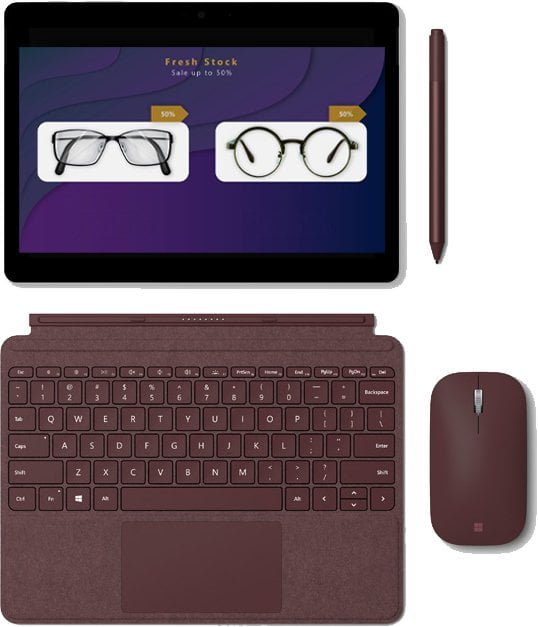 A Surface tablet is great because it is a computing device, network device, integrated display, touchscreen if needed, and it runs Microsoft Windows, so you have a wide variety of applications that you can use.
The build-in WIFI device allows you to connect instantly to your network so that you can use internet and network resources. Of course, with our SignageTube digital signage software solution in the cloud, you need a (WIFI) network connection in order to connect to your SignageTube account and download the multi media files that were scheduled for your display at this time.
To configure the system, you can use Windows build-in on-screen keyboard, or just hook up an external keyboard via a USB port to do you configuration.
To navigate on the tablet, use your finders and point to it because the Surface is a touchscreen display. Or connect an external mouse via USB if you want to use a traditional mouse.
When done, remove all connected external hardware, and hang up the tablet to the wall. Connect it to the power, and use your SignageTube account to control its content.
Free SignageTube Account
Sign up for your account below to see how cloud-based digital signage can help your business, organization or facility.