Simply put, digital signage in the cloud is a cloud-based technology where screens and monitors are used to display digital content for communication and entertainment purposes. This cloud-based service is a versatile and flexible technology – that means it can be applied across various industries and adapted for different purposes. Restaurants, bars, hotels, franchise outlets and other various corporate organizations have all embraced this innovative technology because of its huge benefits. Not just that, the businesses who have deployed digital signage in the cloud service for their workplace communication and promotional purposes all attests to how it enhances customer experience and improves branding. So this technology can be used to create a digital coffee shop menu board.
As a coffee shop or café owner, the use of digital signs can be a great addition to your business outlets, as they can be used for many purposes within your place of business. This is why major food chains now use digital displays for branding, promotions, direct selling and up-to-the-minute menu information. If you are still curious about how your business can benefit from digital signage in the cloud service, here are some good reasons to consider:
​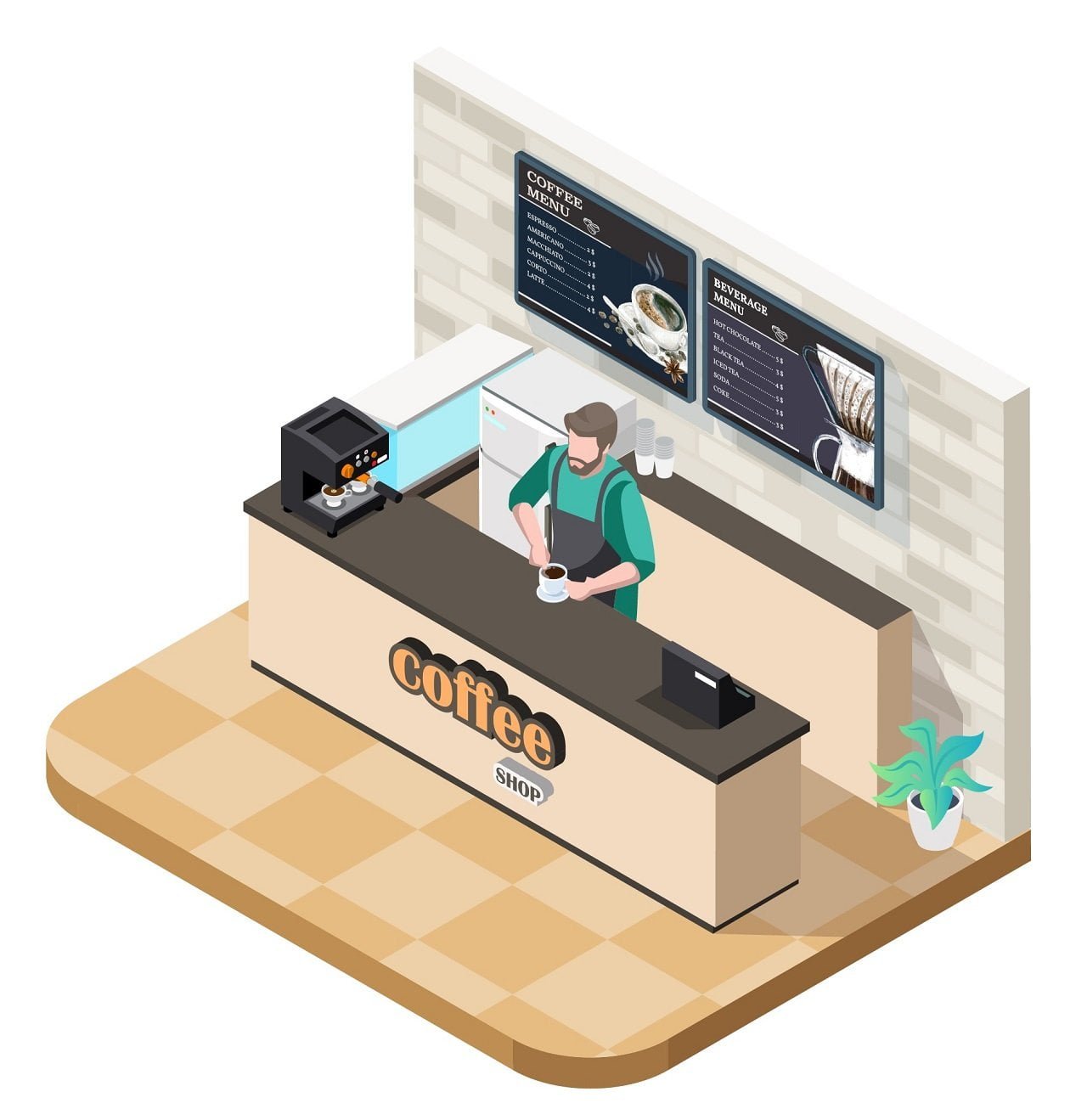 Flexibility of a Digital Coffee Shop Menu Board
Compared to the use of static boards, paper menus and signs in your coffee shop, switching to a digital coffee shop menu board is definitely a smarter alternative. With the cloud-based console, digital signage in the cloud enables you to effect changes such as deleting special offers that have expired, you can change the prices on stock you have for flash sales, or even match your menu offerings to the current weather. It all seems so easy and fast. Don't forget that dynamic displays are definitely catchier and more visually-appealing than static posters. With digital signs, you can show videos, pictures and slideshows of specialty drinks, happy hour specials, daily promotions and other premium offers in a more eye-catching way that paper boards and card displays cannot. Whatever new product you are offering can be displayed in real time on your digital coffee shop menu board, and more promotion means more sales.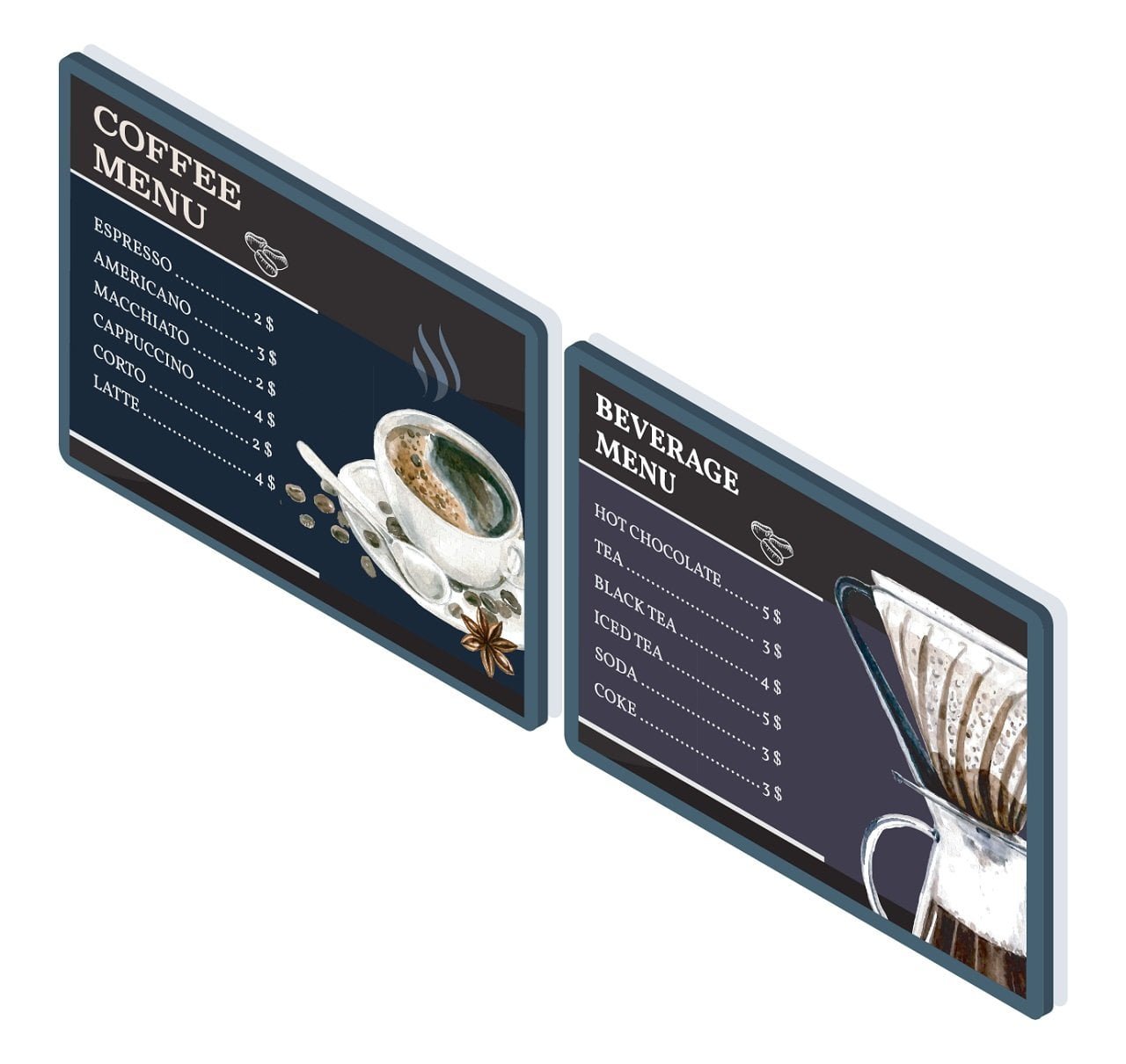 Enhanced Interaction Using Your Coffee Shop Menu Board
When you invest in a digital coffee shop menu board for your café and coffee shops, there's no limit to what you can promote. Even outside sales promotion, digital signage in the cloud displays can serve as a medium for broadcasting relevant bits of information such as nutritional information, detailed ingredient lists or allergy advice on each of your coffee specials. Since it's cloud-based, you can connect them to your social media channels and display customer feedback across your social media feeds. Furthermore, you can take it further to highlight social events, live band performances and other upcoming special occasions you may be hosting on your coffee shop menu board.
Convenience of a Digital Coffee Shop Menu Board
Think about the hassle it takes to put up paper signs and what it demands to pull them down when they need to be changed. However, that's different with a digital coffee shop menu board. Changes, modifications and alterations can be made at the push of a button. Much more, since the control systems are cloud-based, that means you can update your displays from anywhere with an internet connection. And if you have a chain of coffee shops or cafés, you can update the content displayed on your digital menu boards from a central location or just allow different displays across each shop.
Reduced Cost
The short terms costs of installing a digital coffee shop menu board may be more expensive than static signs, but it lets you save a lot of money in the long run. Since updates to the design can be made at a click of a button in the cloud rather than the cost of a whole new design each time you have a new product or the price changes, you get to save a lot more time and budget. Special time-based promotions such as "BUY 5 COFFEES THIS WEEK AND GET THE NEXT ONE FREE!" can be instantly updated and displayed as soon as the promotion begins and ends.
Free SignageTube Account
Sign up for your account below to see how cloud-based digital signage can help your business, organization or facility.