Question: Do you purchase a machine that has multiple functions and still search the market for other machines to execute functions that can be easily executed by the former? Imagine you own a TV, would you buy another TV just because you need to watch another TV show? Well, I'm pretty sure your answer is no. This is the exact case when it comes to using digital signage in the cloud. PowerPoint is pretty much available on every personal computer, and it is 'free' and easy to use. It packs so many features that will make using digital signage in the cloud easier, without having to use any other software.
PowerPoint is a productive tool that is popular for creating presentations, animations, quizzes, etc., but do you know you can easily make use of PowerPoint to create and edit brochures, flyers, information screens, advertising and digital signage?
The proof: see the video below. Created in less than 1 hour in PowerPoint and it perfectly generated a video for my digital signage, or here in this case, an square video ad for Facebook and LinkedIn.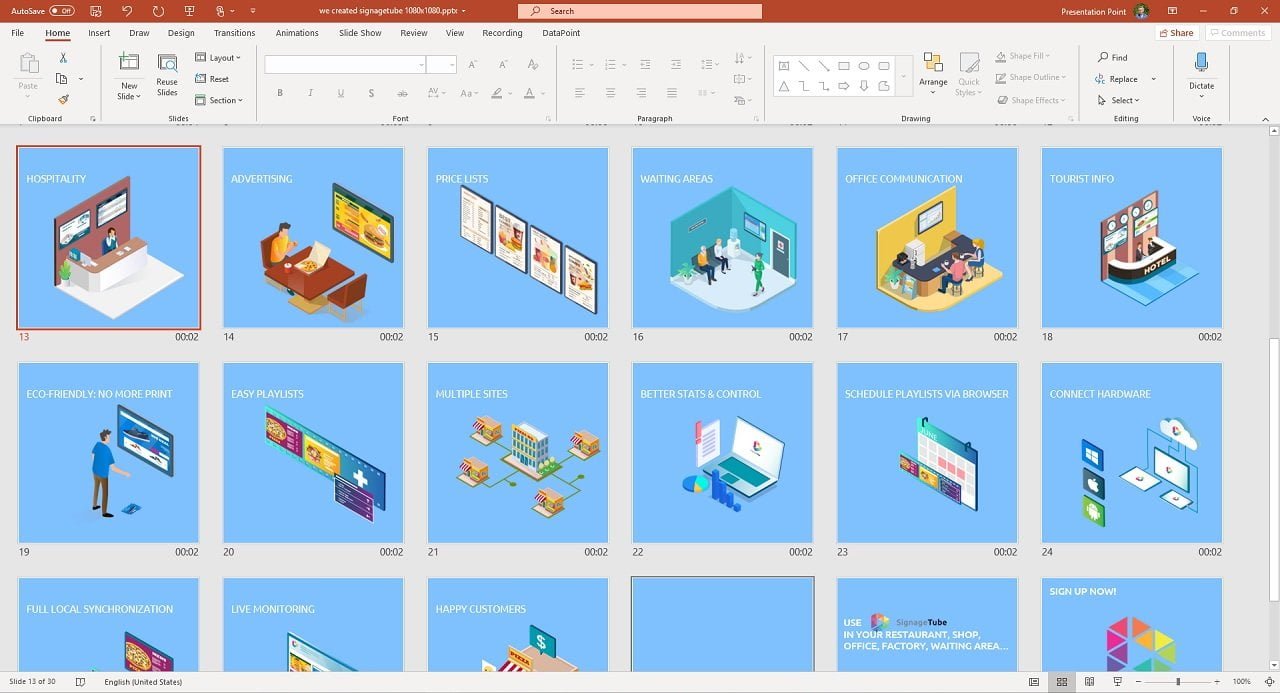 PowerPoint packs every single tool that's needed for the creation and editing of digital signage. Unlike other software that are complex and not user-friendly, PowerPoint is straightforward and this makes it the best choice for everyone. With PowerPoint, it may take a few days to fully master its functionalities, but after that, it'll be a smooth ride to creating the perfect digital signage for your business.
Along with the above, PowerPoint doesn't stress you out. If you're not a tech pro, creating a digital signage file on any other software would prove to be difficult. This is not the case with PowerPoint. It comes with a ton of templates that are available for your usage, and it allows you to edit these templates to your own personal choice.
Saving money is important for any business. To get PowerPoint, all you need is to purchase Microsoft Office; it comes with it. If you're to get any other complex software, that'll involve another purchase.
Free SignageTube Account
Sign up for your account below to see how cloud-based digital signage can help your business, organization or facility.