Introduction
Digital signage is a form of digital advertising that presents information to the public in order to promote products, services or ideas. Digital signage can be used as a means to communicate with customers and employees in real time, but it's also used for internal communications such as employee training videos or safety announcements.
There are plenty of digital signage hardware players around. We tested the hardware and platform of Lumi TV. As they announce it on their website; they are the solution for professional digital signage installers, "Purpose built Digital Signage players" and "Perfectly designed for your Centrally Managed Signage application". Let's explore it.
Lumi TV for professional installers
The Lumi TV Digital Signage Player is a powerful device that offers a complete digital signage platform. It comes with a quad-core processor, which means you can expect smooth performance from your content. The player also has 4GB of RAM, 32GB of storage space, Wi-Fi connectivity and Bluetooth support for wireless hardware.
One of the standout features of the Lumi TV player is its easy-to-use player management and installation system. This makes it a great option for businesses that want to showcase their products or services in a professional and engaging way.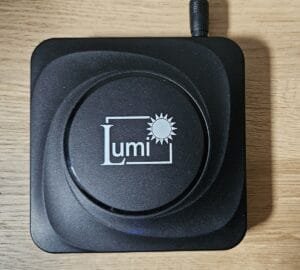 Setting up the Lumi TV player is also fairly simple. You can install it anywhere and connect it to your company network. To use the player as a digital signage unit, connect it to your network via Ethernet cable or Wi-Fi connection. Optionally, you can plug in a USB key th
at you have pre-configured with your WIFI details, generated for you via their CMS website. Power up the device and get connected.
Then you go to lumi-tv.com and log on to your account. You can easily scan a QR code to get your player added to your devices, or you can manually add it there. After that, you can configure your player device from the website, including apps to install, security settings, display settings, and more. A great advantage of this player is that you can order it with our SignageTube player app pre-installed.
The device is now set up and configured within a few minutes, all from remote, from that website. Their player is equipped with some middle layer or communication layer so that you can configure and install this device from remote.
Overall, the Lumi TV Digital Signage Player is a great option for businesses that want to take their digital advertising and communication to the next level. With its powerful hardware, easy-to-use CMS, and affordable price point, it's definitely worth considering. It is ideal for professional digital signage use. You can use our SignageTube platform to manage and schedule your content. And you use the Lumi TV platform to manage security, network and applications.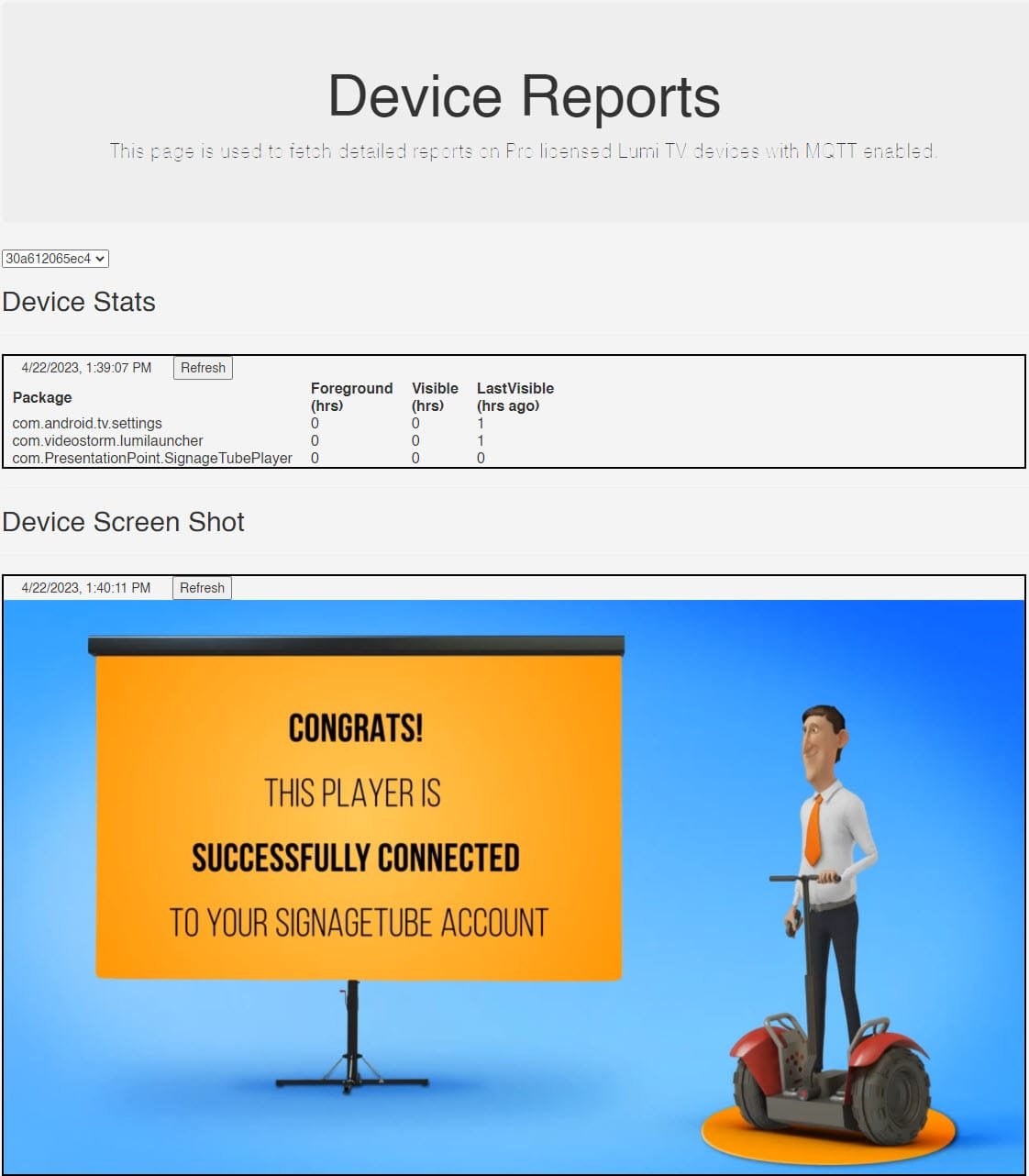 The benefits of Lumi TV include:
Increased customer engagement
Reduced costs associated with traditional advertising channels (e.g., print media)
All player hardware is managed from a central point
Good combination with SignageTube player app pre-installed
User Experience
User Interface: The Lumi TV user interface is very easy to use, especially for non-technical users. It offers a simple and intuitive way to manage your hardware.
Content Management: That part is managed by our SignageTube platform. It allows you to upload videos and PowerPoint presentations. With a PowerPoint presentation, you can add slides with texts, numbers, images, videos and apply animations and transitions on the shapes and the slides.
Content Scheduling: Again SignageTube is used to schedule your playback of videos and presentations. Promote your breakfast menus in the morning, and start show lunch options right before noon. This planning and videos are send to your Lumi TV player devices. The television connected to your Lumi TV player is then showing your pricelists, announcements and promotions.
Video Playback: Videos play smoothly without any lag time between scenes.
Pros & Cons
Pros:
The Lumi TV Digital Signage Player is easy to set up and use. You can mange it from your computer or tablet, and start in no-time!
It's a great value for the money. This player offers a lot of functionality (especially remote management) at an affordable price point.
Cons:
There are no cons that we could find in our research on this product!
Conclusion
After evaluating the Lumi TV Digital Signage Player, I would say that it is a good product. It has many features and functions that make it easy to use and set up. The interface is user-friendly, making it easy for anyone with little experience in digital signage and hardware, to manage their digital signage players. This is definitely a good marriage between Lumi TV and SignageTube.
Free SignageTube Account
Sign up for your account below to see how cloud-based digital signage can help your business, organization or facility.