If you are someone who has screens all around you, then managing them becomes really tough for you without a proper digital screen that can assist you anywhere, anytime. Having a digital signage software means that you can access your content and digital screen from anywhere in the world just by using two things: a stable internet connection and an electronic device like a smartphone, tablet, laptop or even computer.
Every business comes with different plans, strategies and implementation methods, and their intention is also different when it comes to achieving something using digital screens. Every company has set their own budgets, and the content capabilities also remain dissimilar at the same time. And most importantly, each company has different sizes of physical spaces accounted for.
But all of these factors should not overwhelm a company that is trying to take advantage of digital screens using the Cloud Managed Digital Signage software. But to successfully implement your business philosophy and gain enough customer trust choosing the right digital signage is an important part of the whole process because digital screen plays an important role to uplift and make people aware about the quality of the product and services offered by the company.
How to choose the right Digital Screen for your business
Choosing the right digital screen is extremely important, and there are several factors that can let you know which can be the right place for your digital screen. So let us discuss more about these important factors below:
Location
The right location plays a crucial role for your digital screen. It is important for you to choose a place with high traffic because that is how the maximum number of people will be potentially able to see the screen. This strategy is applicable to almost every kind of digital signs, including large screen advertisements, wayfinding signage, displays of directories, etc., so determining the perfect spot is as important as choosing the right content for your digital screen. Also, keep in mind that the spot shouldn't be unbalanced, awkward and out of place for the content to be shown.
The right size and view angle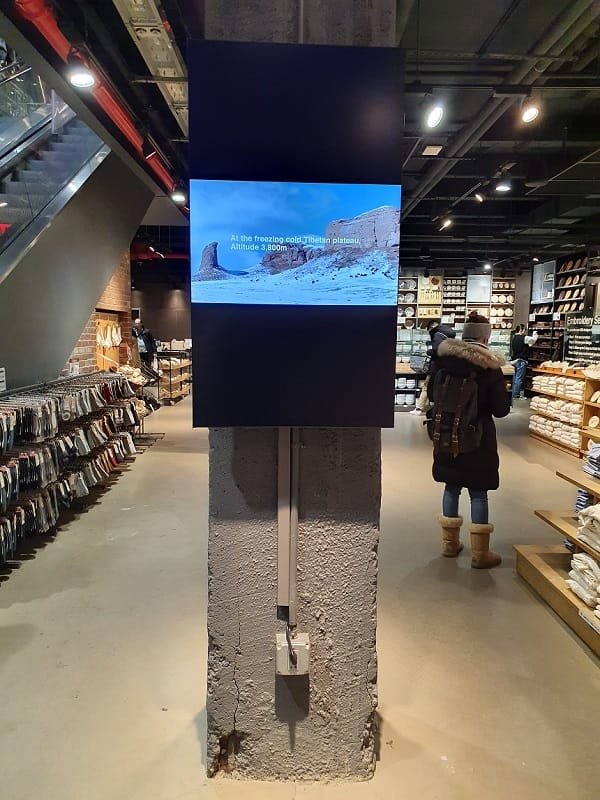 When you are ready with your spot for your digital screen, the next step would be to configure the perfect size and the view angle of your screen. Choosing a screen size that can naturally blend with the environment is very crucial. This way, the people will take the content more naturally than being annoyed by the screen. It is extremely important to know that the bigger is always not, the better. Keep in mind the average viewing distance for your audience when it comes to viewing the display screen.
Small screens are adequate for touch screen kiosks, and bigger screens are best for large and wall-mounted digital screens displays. Also, be careful with the big screens because you don't want the views to loom at the individual pixels of the screen. And in terms of setting the viewing lines right, you need to set the digital screen in such a way that viewers can always get a direct eye-line with the digital screen.
Warranty, Price and durability of the screen
Remember we talked about the screening budget? Well, here we will discuss why budgeting is also important. Before purchasing any digital screen, it is crucial to have a grasp of the funds allotted for content display. The price range differs from screen to screen; for example, the advertisement display for TV costs a few hundred dollars whereas for 4K screen the price can go up to a few thousand dollars.
But buying a commercial signage display is a bit more expensive, whereas, in the long run, it will be more effective for your business. Therefore it is recommended to buy a digital signage display screen to deliver your advertisement.
Brightness
When you are dealing with digital screens, you will find most of them in well-lit places. Many a times, these areas would be flooded with either natural or artificial lights. That means if you want to attract the attention of the customers and want them to read the content, it would require a significantly bright screen.
This is the exact place the difference between television advertisements and commercial digital screens becomes apparent. The television screen advertisements are made for places like your living room, where the lighting of your room can often be dimmer. But unlike these TV commercials, digital screens displays are structured to be utilized in bright and illuminated areas such as commercial buildings, office spaces and retail stores.
According to the experts, the difference in display range of these two types of screens is exponentially big. For TV screens, it is 150 – 250 Nits (the measurement unit of display screens), and for digital signage screens, it is in between 300-2000 Nits.
The entire process of choosing the right digital screen for your business is not something similar to building a rocket that will be used for space exploration. All you would require is a proper plan and the physical space, as well as a proper budget to tag along with it. Once you have these things sorted out, choosing the right digital screen for your business won't be a problem at all.
Start your own Digital Signage
Free SignageTube Account
Sign up for your account below to see how cloud-based digital signage can help your business, organization or facility.