SignageTube: The future is here and we at PresentationPoint are a step ahead. Our experience with data-driven information screens and digital signage showed us how valuable digital information can be in terms of boosting customer satisfaction and retention rates, and helping us position our clients' businesses on the roadmap to success.
We are now taking this up a notch and are delighted to introduce SignageTube: the digital signage platform that makes print advertising obsolete. Information screens are great but many industries are on the lookout for digital displays that don't change every hour or so. SignageTube allows you to enhance your marketing campaign by leveraging the power of digital signage. With the easy-to-use platform, you can upload videos and PowerPoint presentations from any point around the globe and have your enticing advertisements streamed live on televisions worldwide.
Studies have already shown the power of digital signs – they can increase sales and entice your customers at the point of sales, they're easily customizable to meet the constantly changing customer demands, and they're cheaper than traditional print media. As technology evolves at a rapid pace, interactive displays have become the norm and customers are now more or less equating digital advertising with successful business practices. SignageTube makes it easy for business owners to entice their clients and inspire frequent visits by creating playlists with their own presentations and having them streamed on TVs and channels across the world. And if your creative side is a bit rusty, we also offer a rich selection of customizable presentation templates and videos – all you need to do is upload your files and SignageTube will take care of the distribution.
In an era where Netflix is everyone's most frequented web app, cloud solutions are the key to a business' success. SignageTube is your industry's Netflix. As a cloud-based platform, it makes uploading information like videos or PowerPoint presentations easier than a breeze. We bring your brand to the world which not only results in higher brand awareness but also engages your customers. Digital screens are also one of the most flexible advertising banners and give you a competitive edge that is just what your business needs to get a head start and become a leader in your industry.
The simple cloud-based content management system makes it easy for you to monitor what's happening on your remote screens through our app. Make instant changes and see what's going on in real time, or sign up for alerts in case something goes wrong. You can also create your personalized playlists and schedule them, or select the types of channels, or the precise channels you'd like your digital content to appear on. This allows you to generate additional revenues from any third party advertisers, all while saving money on traditional costly printing options.
Stay in control of your business and give it the edge it needs to go from simply doing well to dominating your market with SignageTube!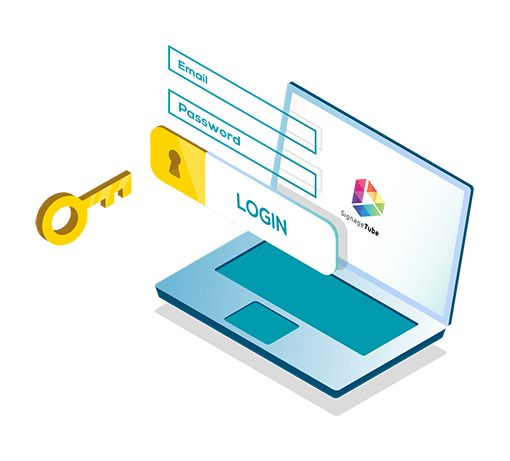 Free SignageTube Account
Sign up for your account below to see how cloud-based digital signage can help your business, organization or facility.